The Ringling Museum is a magnificent and iconic wedding venue that offers a blend of artistic grandeur, historic significance, and natural beauty. As the legacy of John and Mable Ringling, the founders of the famous Ringling Bros. and Barnum & Bailey Circus, this estate provides a truly unique and enchanting setting for couples to celebrate their special day.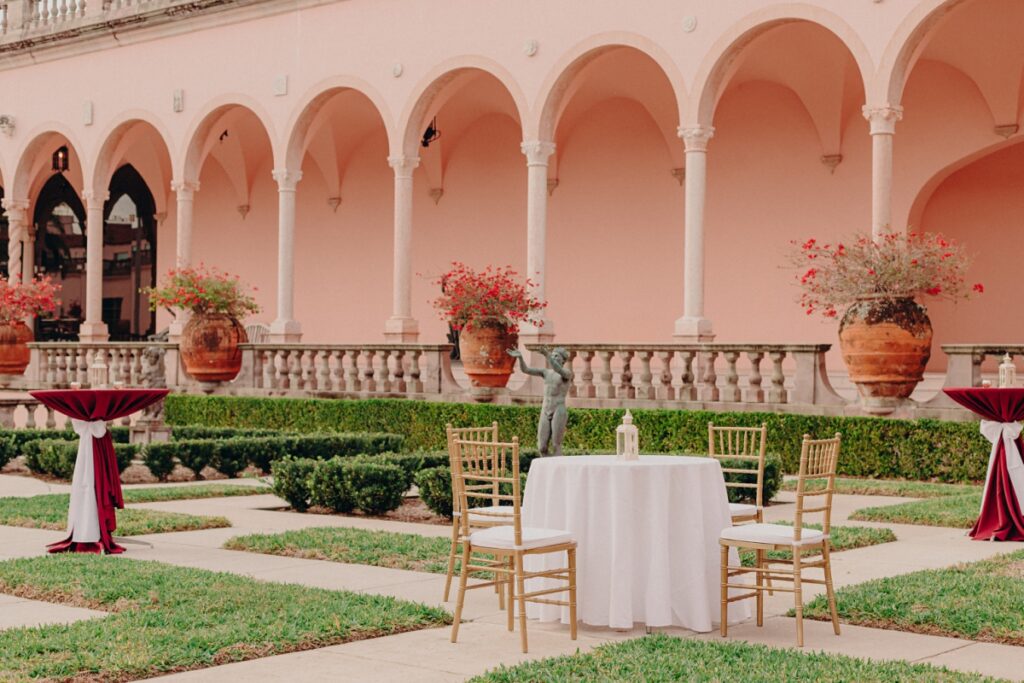 Image by: Amanda Dawn Photography
Wedding Venue in Sarasota, Florida
History
The John and Mable Ringling Museum of Art is known for its impressive architectural elements and opulent design. The centerpiece of the estate is the Ca' d'Zan mansion, a Venetian Gothic-style mansion that resembles a European palace. Its intricate detailing, colorful tiles, and stunning waterfront location create a romantic and fairy-tale ambiance, making it an ideal backdrop for wedding ceremonies and receptions.
The estate's sprawling grounds feature meticulously landscaped gardens that provide a picturesque setting and is also home to the John and Mable Ringling Museum of Art, the Circus Museum, the Ca' d'Zan, and the Historic Asolo Theater. It has become a popular choice for weddings not only for it's beauty but also because couples can incorporate the museum's exhibits into their wedding day.
Accommodations
The Ringling can accommodate both indoor and outdoor weddings with a number of indoor spaces including the John M. McKay Visitors Pavilion, the Circus Museum Tibbals Learning Center, and the covered Verandas in the Museum of Art Courtyard. The outdoor spaces include the Museum of Art Courtyard, Ca'd'Zan Terrace, Bolger Campiello, and Mable Ringling's Rose Garden.
Pricing
The Ringling Museum offers a variety of pricing options for weddings, although the cost of renting spaces at the museum will vary depending on the date and the time of year. Weddings in the Museum of Art Courtyard begin at $20,000 for 125 guests. Overall, The Ringling Museum is a beautiful and elegant venue for couples who want an exquisite and unforgettable setting for their special day.
Learn More
Imagine what your wedding day could look like by viewing this real wedding day in the Museum of Art Courtyard.
Still researching the perfect venue? Check out my list of "The Best Wedding Venues Around Tampa, Florida" to get inspired by some of the top wedding locations Florida has to offer for your wedding day.
Looking for a photographer with experience at The Ringling Museum? Inquire Now.