The Bishop Museum of Science and Nature is a historic museum located in Bradenton, Florida. The museum is home to a variety of exhibits on Florida's natural and cultural history and is set along a beautiful waterfront area with great restaurants, hotels, and shopping. Couples looking for an elegant and sophisticated wedding venue love the that the museum is made of white stucco with red tile roofs, and it has a beautiful courtyard with a fountain — it has a classic Florida aesthetic with a touch of sophistication.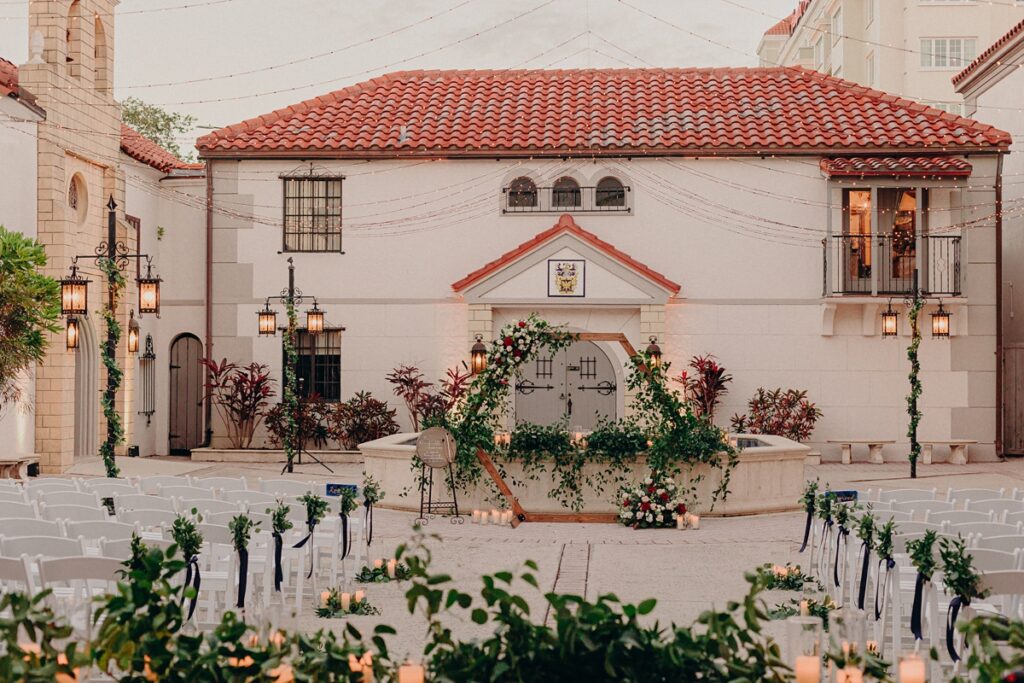 Image by: Amanda Dawn Photography
Wedding Venue in Bradenton, Florida
History
The Bishop Museum was founded in 1947 by Henry M. Flagler, a well-known businessman and philanthropist. The museum was originally called the South Florida Museum, but it was renamed The Bishop Museum in 1960 and is now a popular tourist destination and a research facility.
Accommodations
The Museum can accommodate both indoor and outdoor weddings with a number of indoor spaces including the Jeanie Kirkpatrick Boardroom, Planetarium Theatre, Lobby, and Mosaic Backyard Universe. The outdoor spaces include the South Courtyard, Riverside Plaza, West Lawn, and Loggia.
Pricing
The Bishop Museum offers a variety of pricing options for weddings, although the cost of renting the museum will vary depending on the date and the time of year in addition to their wedding collections that include catering, event planning, and floral design. The South Courtyard Package begins at $3600 for 120 guests. Overall, The Bishop Museum is a unique and historic venue for couples who want a elegant and sophisticated setting for their special day.
Learn More
Imagine what your wedding day could look like by viewing this real wedding day in the South Courtyard.
Still researching the perfect venue? Check out my list of "The Best Wedding Venues Around Tampa, Florida" to get inspired by some of the top wedding locations Florida has to offer for your wedding day.
Looking for a photographer with experience at The Bishop Museum? Inquire Now.